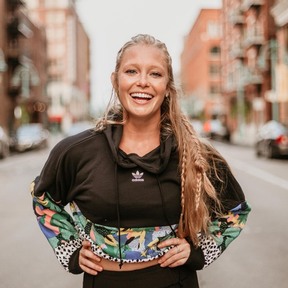 My passions take me from scuba diving the depths of the world to backpacking the peaks. To live this life means I have to keep my body fueled and trained properly. These are my dreams. What are yours? Whats holding you back - physical capabilities or limiting mindset? Let's begin the journey in fueling your body and mind like the athlete you are.
I'm Emma Caird, certified personal trainer, TRX Functional Training instructor, TRX RIP Trainer, and former Division II collegiate athlete.
With over seven years of teaching experience - both personal training and group fitness - I respect what our mind and body can accomplish when trained as one. I design individualized, progressive programs to help clients master basic functional movements to improve their strength and fitness through consistency in any phase of life.
My mission is to bring fulfillment into my client's lives through mindful fitness & wellness practices.
Through the practice of mind, body connection I will help you continue to celebrate the sport of life. We are all athletes in mind & soul - let's begin to navigate this journey.
Are you able to provide proof of liability insurance coverage (COI)?:
What are your credentials?:
Licensed (e.g., massage, medical)
Certified (e.g., yoga, meditation, nutritionist, financial)
Registered (e.g., dietician, nurse)
Business Entity (e.g. LLC)
What services do you offer?:
Certified Compliance Training - Workplace Safety
Alternative Health Services
Nutrition & Food Services
Team Building & Entertainment
Licensed Medical Screenings & Services
Licensed Mental Health Services
Certified Financial Services
Licensed Esthetician Services
Licensed Massage & Bodywork
List any special certifications (e.g., CPR) here::
CPR/AED Certified
Have you received the COVID Vaccine?:
Are you ok with::
Virtual events (webinars)
Traveling (additional fee may apply)
No followed people