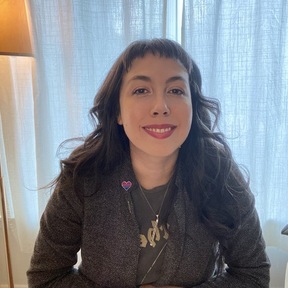 Hi! I'm Tholia (She/her), a Registered Dietitian based in Redlands, California; Land of the Serrano, Gabrielano, and Cahuilla Nations. I have a weight inclusive and intuitive eating approach to nutrition counseling. I want to know what you want to know, what your goals are, and support you in reaching them. I specialize in guiding people to have a healthier relationship with food and a healthier relationship with their body. I also strive to support social justice, equity, and systemic change.
I am an experienced registered dietitian with mental health and trauma related nutrition issues. As well as experience with a wide variety of medical issues that affect nutrition health, such as: Diabetes, pregnancy and postpartum, stomach and intestinal issues, and pediatric nutrition. I've had professional trainings in intuitive eating, binge eating, transgender eating disorder recovery, and ARFID/neurodivergent nutrition therapy.
Mental health and trauma can affect our relationship with food and our bodies, let's work together to get back to a place of peace with food. I work with children, adolescents and adults of any gender. This is a safe space for people of all sizes, backgrounds, genders, and differences.
Are you able to provide proof of liability insurance coverage (COI)?:
What are your credentials?:
Licensed (e.g., massage, medical)
Certified (e.g., yoga, meditation, nutritionist, financial)
Registered (e.g., dietician, nurse)
Business Entity (e.g. LLC)
List any license numbers here or links to validate:
RDN registration number: 86052833
What services do you offer?:
Certified Compliance Training - Workplace Safety
Alternative Health Services
Nutrition & Food Services
Team Building & Entertainment
Licensed Medical Screenings & Services
Licensed Mental Health Services
Certified Financial Services
Licensed Esthetician Services
Licensed Massage & Bodywork
Tell us about your education:
B.S. in Nutrition and Food Science
Have you received the COVID Vaccine?:
Are you ok with::
Virtual events (webinars)
Traveling (additional fee may apply)
No followed people